This post may contain affiliate links or sponsored content. For more info: Disclaimer
Today I'll be showing you 5 tips for online marketing success. Starting a business is both an exciting and scary venture. Navigating through all of the hoops to start a business and become successful can be tough! With the right tools in place though, you can master the world of online marketing.
Nowadays, just having a website isn't enough. You'll need to stand out from the rest, build a brand, and distinguish yourself as an authority figure in the industry that you choose. You'll need to improve your visibility, generate traffic, and convert leads into customers. If you do not do these things, then your business will suffer and you'll fall behind.
If you want to maximize your chance for success, you'll need to learn how to market your business online. Below are my tips for online marketing success that will give you a fighting chance to succeed above the rest.
Build a Website
If you want to make an outstanding impression, your website is an opportunity to do so as a direct reflection of your online business. I recommend using WordPress as it's an efficient Content Management System. There are various themes available which you can use to easily stylize your website. Design is everything.
Most websites have a 30-60% bounce rate. This means that the vast majority of the online traffic that enters most websites leave without visiting other pages. The reason for this happening is that business owners don't put in enough effort to create eye-catching content to catch people's attention for their first 10-20 seconds. You'll want to aim for a bounce rate between 26-40%. If you funnel visitors to your website and your website looks sloppily made and there's no content that catches their eye…then all of your marketing efforts will have been a waste. Take the time to build an awesome website and remember that your website isn't about you. It's about them.
Content Marketing
Content marketing is more important than ever before with the rise of social media. You'll want to create high-quality content to attract people to your brand. This can be in the form of articles, blogs, podcasts, videos, etc. As you create content, your #1 goal should be to build trust and develop a long-lasting relationship with your target market. Keep in mind that you must do this in a genuine way. "Trust is the New Currency". Be consistent and provide value to your audience. People buy from companies that they trust. Always respect that and customers will reward you with their support and purchases.
SEO
If you build a website, you'll be one of many in a sea of websites. New research shows that 82% of smartphone users utilize search to assist them in making purchases. Search Engine Optimization (SEO) is one of the best strategies to use in my tips for online marketing success. It's a process that makes your website appear on a search engine results page whenever customers make a relevant search. You'll want to utilize social media, Youtube, ebooks, guest posting, etc. to increase your website's reach. The more links you have to your website from other websites (backlinks), the better your website will rank in search engines. There are professional tools that you can use to implement an SEO strategy.
Check out my Affiliate Link to an SEO tool provider below. SemRush is an outstanding tool to improve your website's SEO. It can monitor Social Media followers and subscribers, backlinks, and so much more. There are tons of useful tools that it makes available to you to stay on top of your SEO game!
Social Media
Once you've created a website and decided on an SEO strategy, you can complement these with social media to drive more traffic to your website. When looking at various social media platforms, it's important to take into account where your audience is most active and what they are searching for. When you have a recognizable brand and strong social media presence, your web traffic and conversions can increase.
Email Marketing
You'll want to spread the word of your online business when you first start. Implementing E-mail marketing is one of the best tips for online marketing success.
Why?
Because it's a cost-effective way to connect with your target market and increase your ROI (return on investment). Often times, many people will visit your website and forget about it. Remember the bounce rates mentioned earlier? By creating an opt-in for a mailing list, you can later reach out to your visitors via e-mail campaigns. They are literally a magnet to funnel visitors back to your site. When you provide value through regularly sent e-mails, you can not just promote your website and reinforce its value in the mind of your visitors… you can convert them into your most loyal supporters. In fact, e-mail marketing is 40X more effective than social media according to a study done by McKinsey & Company. It's the best way, in my opinion, to ensure that people revisit your website.
Let's say you decide to make a website and blog regularly to build up organic traffic. Having an e-mail list will build up a list of loyal supporters. As the months go by, you plan to develop a digital item for sale. Let's say you self-publish an ebook in the hopes of creating passive income. After about 6 months your blog starts to rank up in Google and your website starts to get some organic traffic. That traffic has continuously grown your mailing list for 6 months. Did the lightbulb turn on yet?

I'll give you a hint… for 6+ months you've had people subscribe to your mailing list. They love the content that you provide and are still subscribed to you because you provide value to them. You decide to send a friendly e-mail to your mailing list about your ebook. You then release your ebook and maybe give them a discount for being faithful supporters of your brand.

Watch as the glowing reviews pour in for your ebook. The reviews inspire interest from others on Amazon and soon you'll have an Amazon Best Seller! You'll make money 3 ways on ebook, paperback, and audiobook copies thanks to the power of your mailing list. You can further enhance your sales with keyword research tools such as Publisher Rocket to manage your pay per click advertising campaigns.
This is just one of many examples of how powerful a mailing list can be. You can click on my affiliate link below at no extra cost to you below to try out AWeber. They lead the industry when it comes to creating e-mail campaigns and landing pages. Check them out!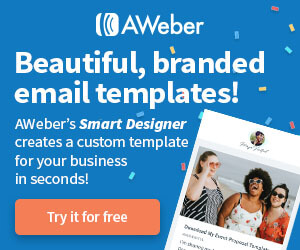 Did You Find These Tips for Online Marketing Success useful?
I hope that you were able to learn how these tips for online marketing success can propel your business forward. Navigating through the promotion of your business may seem daunting at first, but I hope that I was able to break everything down for you so that you can understand these online marketing concepts. To succeed, you'll want to implement as many of these strategies as you can to give you the highest chance of success. Good luck!