This post may contain affiliate links or sponsored content. For more info: Disclaimer
Want to know how to make at least $4,000 a month in 1 year?
What If I told you how to make money blogging with the possibility to earn around $4,000 a month? You might shake your head in disbelief and think that it's impossible. Through my research I've come across a template to do just that promoted by some very succesful online gurus that I'd like to share with you. You don't have to spend $499-$999 for a "Masterclass" on Blogging. You just have to put considerable effort and believe in yourself to get this done! While studying Online Marketing I came across Ricky Kesler and Jim Harmer. They both run Project24 which is a 60-step approach to a profitable niche site. They have real examples of how they turned blogging on niche topics into profitable passive income ventures. They released an outstanding video on how to make $4,000 a month through blogging that I would like to share with you all. Results may vary but if you work hard this goal is attainable.
An excellent video from Jim and Ricky from Income School that explains the template that you need to follow to make $4,000 a month from Niche Blogging. Subscribe to their Youtube Channel for excellent FREE advice: Income School Youtube Channel
Reasons to be a Professional Blogger
Before we get started I need to give you some compelling reasons on why you should be a professional blogger.
It's easy: If you like to write, you can turn this passion into something that can help others by transforming your coherent ideas into something that can be of value to others.
It's predictable: There is little chance of failure so long as you're persistent and provide quality content to your readership. Out of all the other entrepreneurial ventures that you can undertake, blogging won't hurt your personal savings.
You can make lots of money: Most professional bloggers make a comfortable living. Those that want to go the extra mile usually scale their income to make hundreds of thousands of dollars.
What is a blogger?
A blogger is basically any person who writes and publishes information online. Bloggers typically write Blogs which are a shortened version of the term web log. Blogs are articles that can contain content ranging from life, personal opinions, political news, or anything else of interest. Those that share information on Youtube via edited videos are known as video bloggers or "vloggers".
Blogger Checklist
Choose a Topic
Publish Great Content
Send Traffic to Your Website
Monetize Your Readership
Now that you've learned a bit about blogging. Let's roll up our sleeves and finally learn how to make money blogging!
"Those [Bloggers] that want to go the extra mile usually scale their income to make hundreds of thousands of dollars."
How to Make Money Blogging Infographic
Follow this guide to put you on the path to make $4,000 a month in 1 year! Information sourced from Income School
How To Make Money Blogging Guide: Quarter 1 (First 3 Months)
This is going to be the most difficult phase in your how to make money blogging journey but the benefits will pay off in the long run. After you build your site, you'll want to make at least 150 blog posts within 3 months. Each blog post should be roughly 1,700 words. Longer content may be able to rank higher, but you must always ensure that quality is maintained. Quality always beats quantity! With 3 months, it's going to take roughly 2 blogs a day to reach your goal of 150 blog posts. You can outsource the writing, but you'll always want to review the content. Nobody but you cares about your website so you have to keep that in mind when outsourcing your content. It will take roughly 6-8 months for your articles to rank, so don't worry if your organic traffic doesn't pick up until months later. Google takes awhile to rank your website posts.
When you have 150 blog posts completed, you'll then want to create Youtube videos based on those blog posts. This will build up your authority and funnel traffic to your website! It will also create an audience and community that will see you as an authority figure in your niche!
How To Make Money Blogging Guide: Quarter 2 (3 Months)
With 150 blog posts out of the way you can rest a little bit easier, but the content creation won't stop just yet. You'll want to go back to your blog posts and "monetize" them with affiliate links. Affiliate links are links to products that you promote from other companies. You'll earn a commission off of each sale. I recommend Digital products as the commissions are typically much higher than physical products. My blog post: "Make Money with these 10 Affiliate Marketing Programs" can help you get started if you're looking for affiliate products to sell.
Next you'll want to make higher production quality Youtube videos. This will increase your brand recognition as more and more people share your videos. You can share your videos and blog posts on platforms such as Reddit as well. Reddit is a website where people can join communities on popular topics. It's a great place to conduct Industry Outreach and connect with like-minded individuals. You'll also want to create an E-mail list. This e-mail list will allow you to connect to everyone on a more deeper level and it can be instrumental to earning money every month as you can promote helpful affiliate products to them. AWeber (Affiliate Link) is a great e-mail list tool that can assist you in creating an e-mail list for your site.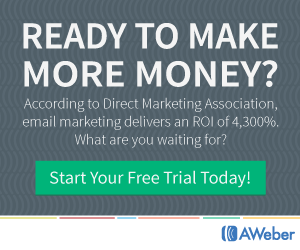 How To Make Money Blogging Guide: Quarter 3 (3 Months)
In this phase you're going to want to start making an informational/digital product. This could be an ebook, video course, app, etc. A digital informational product will take some time to create so you'll want to continue to pump out Youtube videos and funneling viewers to your e-mail list and website at this time. Every person on your e-mail list is a potential buyer for your future product.
How To Make Money Blogging Guide: Quarter 4 (3 Months)
Quarter 4 is the phase in which you launch your informational product! By this time, you'll have had 1 year to build up your e-mail list, Youtube subscribers, and readership! It's time to promote! This phase will be the most exciting part of your blogging career because it is the culmination of all of the hard work you put in all year! You had 1 year to truly help people by giving them information to better their lives and solve their problems. If you did all of the previous steps correctly, they will definitely want to pay it forward and buying your product is one of the ultimate signs of showing their support and gratitude. It's a win-win situation!
Enjoy Your Success
Your success is the culmination of all of your hard work!
After 1 year if you did everything right, you'll have thousands of visitors to your site each month. Earning $4,000 is not unheard of at this point and conservative estimated earnings would be $1,500 in Ads, $1,250 in Affiliate Product Revenue, and $1,250 from your informational product. You'll want to continue to make blog posts to keep up the momentum and keep your website relevant. You can then branch off into other niche sites and start this process over again to create another income-generating website! This will allow you to truly become a Digital Nomad/Remote Worker and ditch the 9-to-5! I hope this "How to Make Money Blogging" post inspired you to get started! Good luck and looking forward to hearing all of your success stories in a year!